About
No yesterdays on the road. Find me on Twitter : @IamAbongwe Find me here also: discostrayjacket.blogspot.com/

hit counter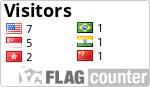 "

Some people, they can't just move on, you know, mourn and cry and be done with it. Or at least seem...

"

"

A person who is nice to you, but rude to the waiter, is not a nice person.

"

"

You should not
have to rip yourself
into pieces to keep
others whole.

"

— i am seeing less and less of...
People I follow